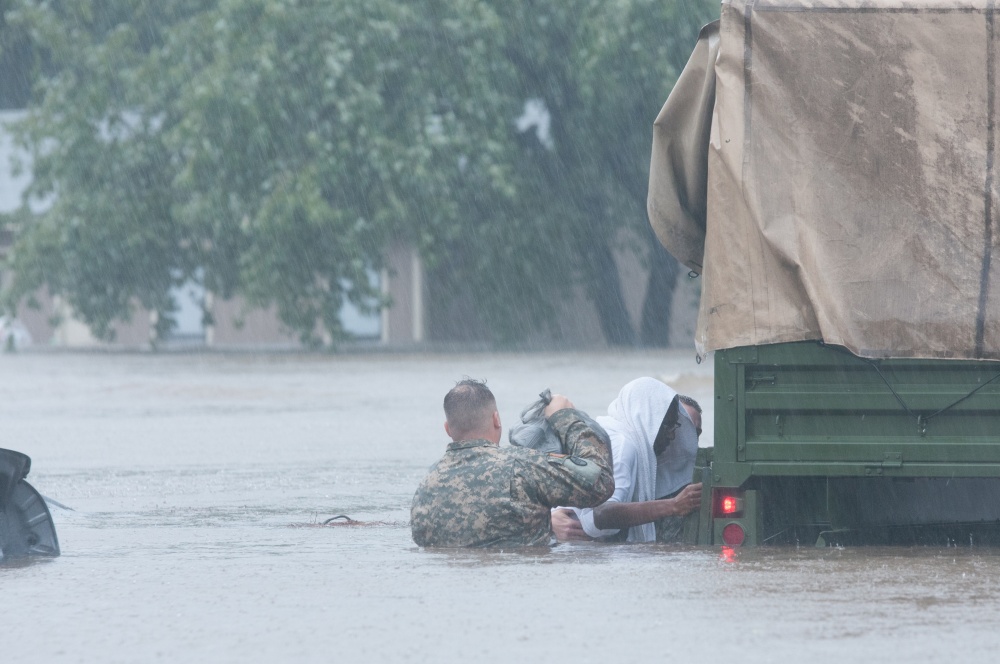 North Carolina Army National Guardsmen and local emergency services assist with evacuation efforts in flooded neighborhood in Fayetteville on Oct. 8, 2016. 
Jonathan Shaw/U.S. Army National Guard | Reuters
Having lived in Ohio most of my life, I had no experience with hurricanes before Matthew hit last weekend. If not for the kindness of strangers, I don't know how I would have endured the flooding.
On Saturday morning of the storm, I arrived in downtown Fayetteville with my 11-month-old daughter. We were there for the inaugural Indigo Moon Film Festival, where my documentary "Radioactive Veteran" was scheduled to play.
My plan was to participate in a brief Q&A after the screening and mingle for a bit with other filmmakers. I brought my daughter along mostly to give my spouse some time off. Of course, I also knew audiences love babies, and we were hoping for an audience award, after all.
Not long after we arrived, however, the power started going out in the downtown area. The inland effects of Matthew had become much worse than anticipated, and the festival's prospects were looking bleak. When one of the festival's main venues lost power, we knew the festival was over.
About a dozen festival volunteers and filmmakers gathered with us at the festival's base of operations in a gallery next to the theater, which still had power. Soon, folks started getting text messages and phone calls saying that streets were flooding. A few people left in an attempt to get home, but they were forced to return within a few minutes. Our street was high enough to be safe, but many of the streets leaving downtown were underwater.
As we faced the realization that we had nowhere to go, the power in our building went out, too.
At that point, my only concern was taking care of my daughter. I didn't have enough milk or diapers to last the night, and she had never been away from her mother that long.
Fortunately for us, we were surrounded by some of the kindest people I've ever met. A volunteer named Diane lived a couple blocks away, and she braved the rain and wind to fetch some milk for us. She also called a neighbor who later brought us diapers and baby food. Other volunteers collected soft food and makeshift toys from within the building. An attendee named Linda offered to share her hotel room four miles away if she could find a safe way there. Everyone remaining was more than willing to entertain a curious baby over the next several hours.
We were strangers to this group of people, but they made us feel like family.
After the rain subsided early that evening, Linda set out and found a safe way to the hotel. We joined her soon after. The hotel had no power and no water, but we at least had a bed to sleep on. We rested that night and returned home safely the next morning.
Not everyone caught in the flooding has been as lucky as we were. The death toll is at 20 and climbing. Our state now desperately needs more of the kindness my daughter and I received from the folks at the Indigo Moon Film Festival. That kindness was a light for us on a stormy day, and communities across eastern North Carolina are still in need of such light.
As the state deals with the hurricane's aftermath in the coming weeks, let us shine brighter than we ever have.
Bradley Bethel is a documentary filmmaker and former teacher who lives in Mebane.